Paris BikeTours
Riding through the streets of Paris may to many a tourist seem like a pretty risky thing to do, but this is really not the case.
Anyone roaming this City will quickly notice that bicycles are just about everywhere and are an integral part of the city's transportation system.
This is not to say that every visitor that has ever rode a bike should brave the traffic of Paris
There are certain instincts that need be developed in order to whiz through Paris traffic like a local.
But there are other options for those who want to see the City while getting some exercise and enjoying the feeling that bike riding offers.
Joining a Paris Bike tour offers you all the benefits of a ride through the city and none of the downside. A tour also can give you the introduction you may need to encourage you to strike out on your own another day.
The Paris Bike Tours offered here are conducted by well trained guides, whose primary concern is your safety.
The guides are well versed in the history of the city and will give you a wonderful introduction into this great City.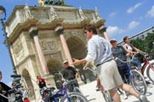 Paris Bike Tour
Price: 34.22


Great liesurely ride through the City, plenty of sites and loads of history and stories. Perfect for the family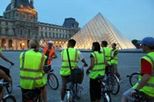 Paris Night Bike Tour
Price: 34.22


Paris Night Bike Tour is perfect for both those new to the city and Parisian veterans. For the beginners, this tour will offer you a fantastic orientation and give you an opportunity to see virtually all of the sites you've read about. For the veterans, you will learn new facts and stories about Paris that you've never heard before. You are sure to agree that riding a bike is the best way to see the "City of Light".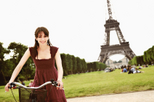 Heart of Paris Bike Tour
Price: 41.55


Come and experience the sights and sounds of the Heart of the city on this Paris cycling tour through local streets. See the beautiful monuments and tourist attractions as well as immersing yourself in the quaint village atmosphere of the surrounding area.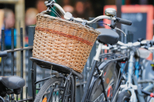 Paris Villages Bike Tour
Price: 41.55


See Paris and its outlying villages by bicycle. Cycling around Paris is an original and unusual way to see the real Paris, away from traffic and stress. You'll ride across residential areas and along quiet avenues to discover the unexpected hidden charms of the Parisians' Paris. Even better, exclusive to Viator, you can pedal through Paris on a tandem bicycle built for two!
Private Tours